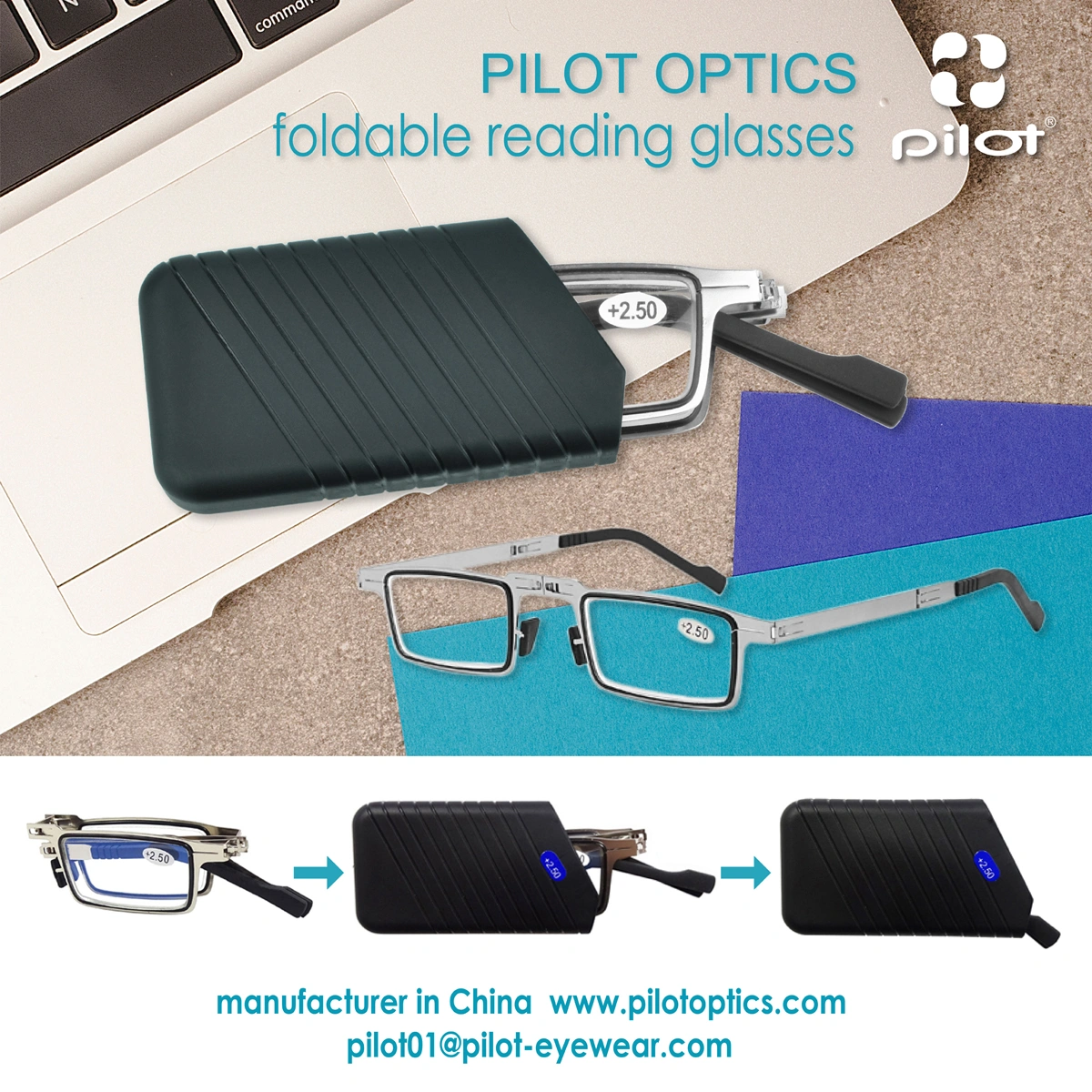 What are folding reading glasses?
If you want to carry the reading glasses easily, folding readers may be the most ideal choice. They are very slim and can fit into a case that looks more like a pen holder. You can easily put them in your pockets. The vast majority of eyeglass cases are hard, so your glasses will not be at risk of getting distorted or broken.
There are many styles and colors of foldable protective cases. You will find one that suits your taste. The best plastic or leather goes into the creation of eyeglasses cases, so the glasses can get maximum protection.
Who Needs Folding Reading Glasses?
1.Those who feel uncomfortable with glasses need folding reading glasses.
If you are one of the individuals who only need glasses to see certain things (such as close text or distant objects), but don't like to wear contact lenses, foldable reading glasses belong to you. Therefore, simply take out the folding reading glasses from your pocket or handbag, slide them to your face gracefully, use them within the required minutes, and conceal them again as though nothing occurred.
2.People who don't wear reading glasses for a long time needs folding reading glasses.
Suppose you are traveling and reading a map, restaurant menu, or tour guide, but it is difficult to read only small text. Folding reading glasses are very attractive and practical. They can be put in your pocket, rucksack, or tote which can come in handy. Simply use them when you need them and set them back.
3.Presbyopia patients with occupied ways of life need folding reading glasses.
If you have presbyopia, you may need reading glasses in some cases. Now, if you are living a busy lifestyle and you don't realize that you need reading glasses, and you don't have a heavy eyeglasses case with you all the time, then we have prepared the folding reading glasses for you. You can advantageously put the mini reading glasses in your pocket or handbag at any time or place. They are ultralight and take up almost no space, saving you the trouble of relying on your friends' reading glasses or asking someone to read the content to you.
What strength reading glasses do you need?
Due to the progressive nature of presbyopia, we recommend that patients in their 40s start using low-magnification reading glasses, and patients in their 60s use high-magnification lenses. +1.00 power glasses are considered low strength and relatively small magnification, while +3.50 power glasses are considered high power lenses.
If you mainly use reading glasses when using a computer, we recommend that you choose a lower magnification of reading glasses. When the viewing distance is longer, utilize a lower reading glass power. Conversely, if you use reading glasses to see very close or very small objects, you need lenses with higher magnification and stronger strength than those recommended by the age-based reading glasses power meter.
As a rule, it is best to choose the lower power reading glasses if you cannot choose between two kinds of reading glasses. because under normal circumstances, the too strong reading glasses may cause more discomfort than the weaker reading glasses.
Prescription folding reading glasses
Although buying non-prescription reading glasses may be convenient, getting a prescription for reading glasses also has some benefits. The major cause for this is that your vision may require different corrections, and this can only be done with your ophthalmologist's prescription.
Now that you know the advantages of folding reading glasses, try out the competitive readers to make yourself more comfortable?? Look at our cheap and best folding reading glasses series. We have a variety of reading glasses to cater to every customers. You may be attracted by our folding reading glasses.