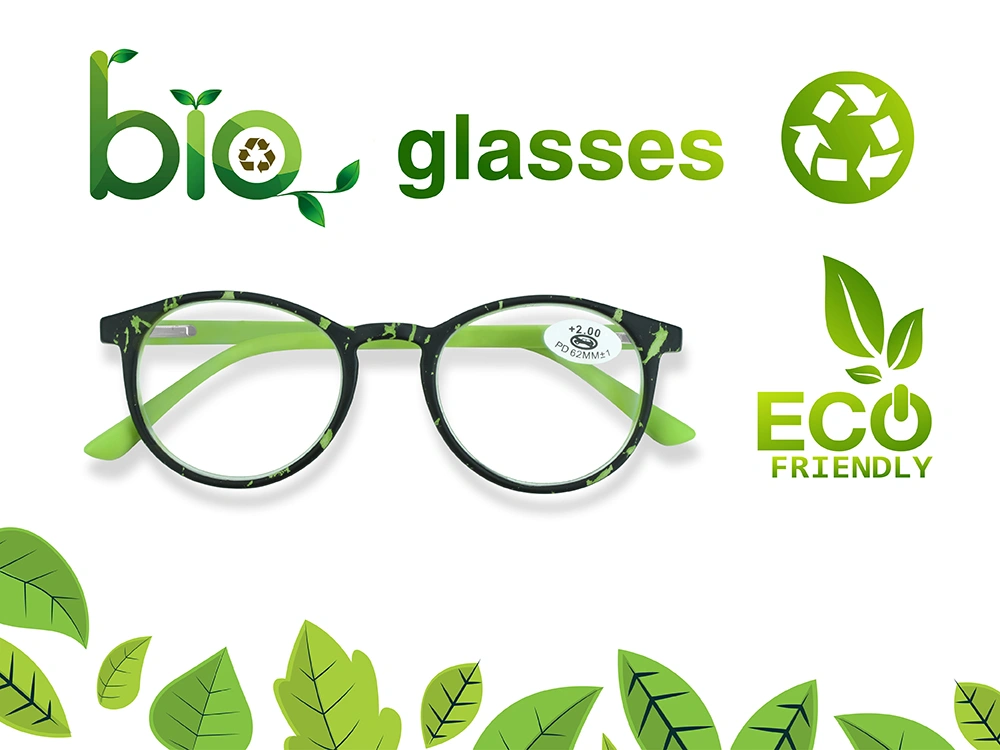 The eyewear industry is extremely energy-consuming, polluting, and wasteful, and despite modest progress in the past few years, the industry still hurts the environment. Protect the earth's environment-the homeland of all mankind. With eco-friendly fashion, sustainability is becoming a new trend and never damages the eco-environment.
Creating sustainable eyeglasses requires new thinking. Not only in terms of design, but also for the material we use. We insist that eyewear development should not come at the cost of our environment. Through our reinvent technology, we are zealously dedicated to redefining the relationship between fashion and sustainability through eyewear. Biodegradable, recycle, bio-based materials are widely used in eyewear manufacture. It's the greatest saving on natural resources, and the frames are designed to be comfortable and sustainable.
How does eco-fashion affect the environment?
Through eco-friendly fashion, the benefits of the environment are the same as when any company engages in green practices. It needs an industrial process that is harmful to the environment, and then make it better, and thus make the environment prosper. The key point is always on decreasing waste and having a wholly positive effect on the overall environment, and the benefits to the environment go beyond just choosing brands that engage in harmful practices.
Why is sustainable development important now?
At present, we are slowly moving towards a harsh environmental future. Numerous companies in many industries, including the fashion industry, are messing up the planet. These issues have been developing over the long run and are making genuine harm to the environment. More sustainable products should replace ungreen products.
In recent years, PILOT OPTICS has developed various eco-friendly material eyewear. We could support customers with all these types of eco-friendly materials. We are GRS certified.
1. Biodegradable material (for example, corn or wheat and so on)
We found corn materials to be the most sustainable material to produce from which is biodegradable glasses material. A strong and highly durable plant, corn material is utilized in many ways. It is already used in the industry to produce transparent cups or disposable tableware, amongst others. Making eyewear out of them is an eco-friendly concept!
2. Recycled post-consumer material (for example, recycled PC, recycled PET, recycled metal)
We found a way to turn scrap plastic into new eyewear. All the recycled material can be produced into new eco-friendly sunglasses or normal eyeglasses. Instead of discarding carelessly into landfills or the ocean, the plastic or metal can be recycled once again. It's time we got rid of these bad habits and take action to protect the environment.
3. Plant-based material (another meaning is castor oil material)
To create plant-based frames, castor oil is necessary material. Plant-based material is sustainable and bio-based which can produce into various eyeglasses. Castor material lies on that it could not only comes from regenerative resources, but also allows us to manufacture the eyeglasses without producing solid or cutting waste, so the entire process causes a very small ecological destruction.
Support eco-friendly glasses fashion is respect and reverence for the environment. The choices we make when we consume can directly affect how the environment is treated. Sometimes being a reliable green advocate can be as simple as choosing the right companies. Sustainable and regenerative use can avoid these negative environmental impacts and risks.